~*Before meeting*~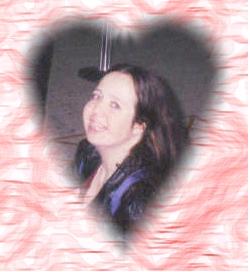 ~*After*~


"Loving someone is giving them the ability to destroy you, and trusting them not to."

~~~~~~~~~~~~~~~~~~~~~~~~~~~~~~~~~~~~~~~~~~~~~~~

Love is that condition in which
The happiness of another person
Is essential to your own.
~*By:Robert A. Heinlein, Stranger in a Strange Land*~

~~~~~~~~~~~~~~~~~~~~~~~~~~~~~~~~~~~~~~~~~~~~~~~
Aaron and I have been "dating" since July 12th, 2003. And we've "known" eachother since June 28th, 2003. This is how we came upon eachother. We both were in the "Dwarfism Singles" group on yahoo. Well at that point, I decided I wanted to quit dating average height guys, and concentrated on dwarf men. SO, one night I was browsing the members list, for guys around my age, and I came across Aaron's. I thought to myself "He's SOOOOO HOTT! I need to PM him!" SO I did! I didn't get anything for a few days, and on June 28th, I got a PM from him! BUT he was offline once I got it! I remember pm'ing him asking what his REAL name was. B/c it's BLIXX on his profile. After I did that, turns out he was online! SO, we talked for a few hours online, then I gave him my phone number, and that led to a 6 hour phone conversation! The guy held my attention from 2 to 8 am! IF ya ask him, he'd tell ya we talked about everything under the moon. I can seriously say, he had me at Hello! Over the next week, I couldn't talk to him, b/c he was away, BUT once he got home, it turned into hours on end conversations. Everynight, and once during the day!!! On July 12th, we decided to wanted to be something more. I figured that how we met, and all the talking we did, was better than a blind date!!! About 2 weeks after that, I joked about going to NC to see him, then to my suprise, he offered to make it to where I could go. And before I knew it, I was preparing to go to NC to see him. EVERYONE thought I was crazy, BUT I saw something in him, and I didn't wanna live w/ the "What if's" I didn't go!!! So, on August 15th, I boarded a plane to Raleigh, North Carolina! For me, when I 1st saw him, that was it! I felt like I was done looking! And I am!!! I stayed until September 17th, then I came home. Now, I just can't wait to see the guy who's "everything to me" again! And SO what if we met online, I guess when love hits ya, you can't control it!!! And IF I had to go back and have the choice of doing it or not all over again, I would in a HEARTBEAT!!!!!NOW, why don't I move on so you'll know a little(get it little, hehe) about Aaron!
Aaron's 21, and lives in NC, and IF ya ask me,he looks HELLA SEXY! It's the 'bad boy' look, haha! BUT as you can probably tell, Aaron is little like me, he has Pseudoachondroplasia(say that 5 times fast, Im just happy I can spell it w/out butchering it!!!!!) ANYWAY,He's hot, funny, smart, makes me laugh, and has a southern accent! OMG, it's great! LOL!!! I Love him w/ ALL of my heart, he's the best!!! AND the name Blixx, is a stage name. He's apart of the "Micro-Wrestling Federation". My baby is tough!!! I Love you babe!!LOL!!! Here's a little about Micro wrestling.(From their page, that's why it's in quotations!)
"The Micro Wrestling Federation is the ONLY all "Little Person" wrestling organization in the world! That's right all performers in the MWF are under 5 foot tall! The MWF is a national unique brand of wrestling specializing in a one of a kind type entertainment with the famous little people seldom seen anywhere else in the world of wrestling today! Our performers have been featured in several nationally syndicated programs such as: WWE Raw, WWE Smackdown, Jerry Springer, Jenny Jones, Mtv's Real World vs Road Rules, Maury Povich, NWA/TNA Total Non-Stop Action, and our talent has even been fortunate enough to have co-hosted WWE Heat with Al Snow!"
Click on the link below to visit the site!!!!